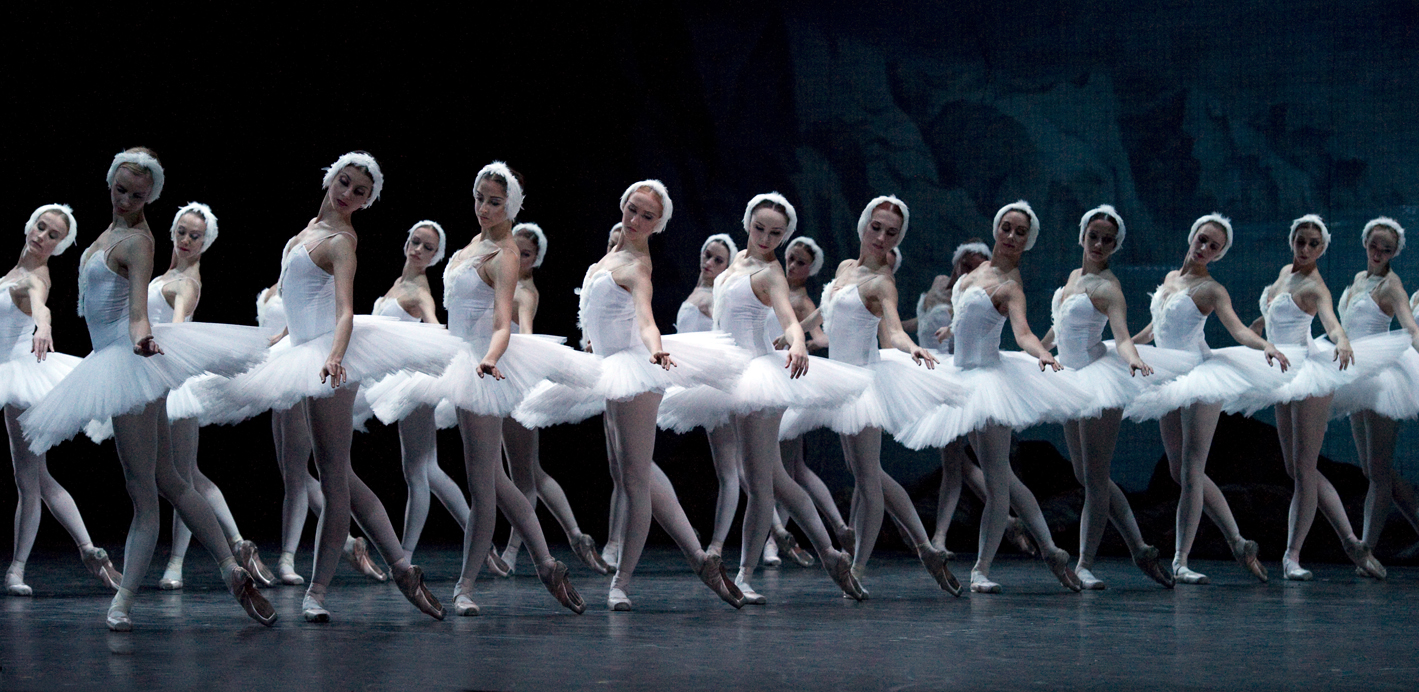 http://images.huffingtonpost.com/2012-10-13-LRMariinskyBallet_SwanLake_03_Credit_xx.jpg
This post in long over-due! Some friends and I went to see the
Mariinsky Ballet
perform
Swan Lake
at the
Kennedy Center
in late January. I had never seen this particular ballet before, and since it is a classic, I really wanted to see it. Plus, seeing any ballet performed by a Russian ballet company is a treat, so I just had to go!
First of all, this ballet company is huge! At any moment I felt like there were at least 20 dancers on stage. This was especially true when there were more than 30 other "swans" on stage; they were like an army of birds! I also enjoyed the traditional costumes, with men in white tights and women in classic tutus (although I will say, I am
not
a fan of the snow-bunny feathered earmuffs that all ballerinas seem to wear whenever performing
Swan Lake
. There must be a better way to wear feathers!). The prima ballerina (
Alina Somova
), though a little too skinny for my taste, was very graceful, and I especially liked her as the black swan in the second act, when she could actually smile (she couldn't smile as the white swan. She was a swan!) and wore a feather tiara, a much better look than the ear muffs. Other dancers I especially enjoyed were the Spanish dancers (
Anastasia Petushkova
, Alexander Beloborodov,
Kamil Yangurazov
, and my favorite,
Yulia Stepanova
), and the joker (Vladislav Shumakov did an amazing job! He had the whole crowd on his side, even with his creepy clown make-up!), not to mention
Elena Bazhenova
, who played the prince's mother and had incredible stage presence. I loved in Act 3 how there was a mixture of black and white swans on stage, too. All of the dancers' movements actually looks like flying wings or graceful long necks, just like real swans!
The backdrops were incredible, from portraying the castle to showing the lake (with what look like actual reflections!). And there was a screen that portrayed Odette outside of the castle window while the black swan is at the ball, which I thought was a very clever way to show the dichotomy between the two swans. There was also lightening that seemed very realistic! The setting was perfect for the ballet.
But of course with any performance, I have a few complaints. I do not like the use of props in dance in general: I think they make the movements more awkward, and in this case, made it difficult for couples to dance (how are you supposed to dance with someone while you hold a lantern or she holds a tambourine?). And I found the ending to be quite anticlimactic: it seemed so easy for Rothbart to be defeated, just by losing his wing (although I will admit this dancer,
Andrei Yermakov
, was rather impressive throughout the rest of the night).
But all in all, I loved seeing this romantic love story unfold on stage. I hope this will not be the last time I see the Russian ballet!