For the past three years, I have seen "
The Nutcracker
" at the
Kennedy Center
(
Ballet West
and the
Joffrey Ballet
). They have been absolutely wonderful! But this year I wanted to mix it up. I have lived in the DC area for almost four years now, and I had never seen the city's own company, the
Washington Ballet
. I figured it was about time, so this year, I saw them perform the famous Christmas ballet.
There were pros and cons to changing my usual routine. The
Warner Theatre
is certainly easier to get to, and it is a beautiful (albeit smaller) venue. I also heard that this version was somewhat DC-centric, so I thought that would be interesting. BUT there was no live orchestra for this performance (which is half the fun of the show!), and
Septime Webre
is...quite the character. He welcomed us by saying, "Tonight is a special night, because you are here." Hmm... He also taught us how to say "Bravo!" before the show, and named
Geico
as a sponsor, which I can't imagine ever happening at the Kennedy Center. The Washington Ballet is quite a small company, and I realized during the show that many of the dancers are students, not actually company members. While this is a wonderful opportunity for young people, I hadn't planned on paying almost $50 to see amateurs dance to recorded music...
The ballet opened the same way as usual, with the family party. Clara, played by Emily Ann Hester, was just as you'd imagine her to be. She was wonderful, and I loved when, while she is getting ready for the party, she looks in the mirror and sees herself as the Sugar Plum Fairy (every girl's dream, no?). And I was quite pleased to see that her "prince" was her own age. Usually in "The Nutcracker," Clara is a young girl and her prince is a grown man, which is kind of creepy. But in this case, they were both teenagers, so I thought that was quite nice. Clara's father (played by
Gian Carlo Perez
) was wearing a smoking jacket at first, and all I could picture was
Hugh Hefner
. Drosselmeyer was weird as usual, with his eye patch and cape, but I was surprised the audience didn't clap when he revealed the nutcracker (which resembled
George Washington
!). And of course there were tons of children on stage, and they were quite cute and funny. Props to those little kids for being so brave to dance up there on that big stage!
Because of the DC-theme of the performance, much of the children's dancing was quite militaristic: marching, saluting, etc. The soldiers were even dressed as Rebels in the Revolutionary War, and the rats were the Redcoats (They actually looked more like wolves than rats.)! There were also some children dressed as colonial-times mice, who shook their tails (butts) at us...
There were many loud sounds and bright lights throughout the show! They were quite jarring! Image found here.
The Redcoat rats bowing to their king. Image found here.
Which of course made me think of
Wayne's World
: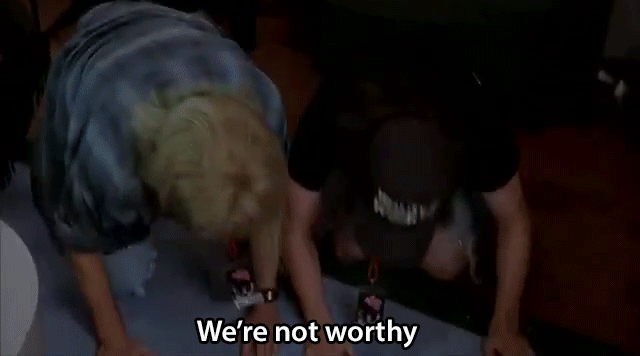 The snowflake number was next. I had not noticed this before, but someone had mentioned earlier how long the snow bit is, and it does kind of last for a while! The dancers did a nice job, but I ended up thinking, "Let's wrap it up!" But I've never been a very patient person...
I did enjoy the costumes on the snowflakes. They reminded me of the frost fairies in
Fantasia
(which features much if not all of the music from this famous ballet). I also liked that they didn't use props. Frequently companies will have the snowflakes hold something in their hands to resemble falling snow, but I find props to be distracting.
The Snow Queen (
Ashley Murphy
) and Snow King (
Samuel Wilson
) were not very good. Perhaps they are talented individually, but they did not dance well together. There was one nice lift, but otherwise, their connection was very forced. You could see their hands wobble and the unsureness of the dance. The dancers should know their partners so well that the dance simply flows naturally! It was simply sloppy, which was unfortunate. At least Wilson looked like a
Ken Doll
in white tights...mmm...Moving on.
The second act starts with Clara and her prince coming in on a boat down the Potomac River (with dolphins?) Here we saw mushrooms, flowers, and all types of animals dance, like a frog, deer, squirrel, and fox! I believe most of these dancers were students, and they did quite a good job!
I think these little girls are supposed to be butterflies. They were too cute! Image found here.
I was surprised how many dancers were on stage during the Spanish Chocolate and Chinese Tea dances. Usually it's a couple or two, but there was so many dancers that I didn't know where to look! The dancers for the Chinese number moved like one of those Chinese dragons, except they created a fish! A little boy played the tail of the fish, which was pretty adorable.
Chinese Tea dance. Image found here.
The Arabian Coffee dance is always my favorite because it is so sensual. This version did not disappoint.
Ayano Kimura
and
Corey Landolt
represented the "Anacostia Maiden" and "Anacostia Brave" respectively (again, with the local theme). This dance was so sexy! The two dancers moved very well together, and the lifts were amazing. It's that kind of dancing that inspires me to
blues dance
!
Although these are different dancers than I saw, I did see this move, which must be the most impressive in all of ballet. Image found here.
Brooklyn Mack
was very good in the Russian dance (which in this performance was a dance from a frontiersman like
Davy Crockett
...). He is a very talented dancer! He was fun to watch, and he got the loudest applause from the audience during the entire performance! (Image found
here
.)
The next dance baffled me. I didn't know who the dancers were supposed to be in their red feather outfits (which had horribly obvious zippers in the back), and then a cat/raccoon animal joined in! I believe this was supposed to be the "Dance of the Reed Pipes," but I suppose the local spin on this dance was to make the dancers cardinals and a cat...? I was so distracted by the furry dancer that I couldn't think of much else.
When it came time to see Mother Ginger's (or in this case Mother Barnum's) children, I was very surprised to see that her skirt was a carousel! I love carousels (duh, because there are horses). The children could even ride on them! The clowns were children, although not as young as I've seen in other performances. They did cartwheels and such (one of them fell but played it off well), and the "littlest clown," played by Isabelle Baker, was very good! Mother Barnum (played by
Daniel Roberge
) was quite funny (yet still a creepy clown), but he may have upstaged the tiny clowns with his version of the "
Single Ladies
" dance. Here's the video of a previous performance:
I will admit, I forgot that the Dew Drop Fairy (played by
Morgann Rose
) even existed. I liked the costumes of the other ballerinas, which look like the cherry blossoms around the tidal basin in DC (
like this
). But I was not a fan of the outfit that the Dew Drop Fairy had to wear. The corset was very strange in that it was not connected to the skirt; it just poked out! And the tutu was just plain white with cheap sparkly bits on it. It was weird, since the neckline of the corset was completely bejeweled; it was like the skirt was an afterthought. I think I was so distracted by the outfit that I can't even remember if I enjoyed Rose's dancing or not!
I couldn't find a picture of Derechyna in her costume! Image found here.
The Sugar Plum Fairy (
Kateryna Derechyna
) is the
epitome
of a ballerina. She was amazing! Why doesn't it surprise me that the company's best dancer isn't even American? But of course most of the best dancers come from Eastern Europe and Russia anyway... But I will note that the company is very diverse! Which I suppose shouldn't be surprising, since DC is such an international city. At the curtain call, we got to see the international side of the program all over again, with the Spanish Chocolates and other treats practically performing a whole second number before taking a bow!
At the end, Clara performs her own solo and then rides off on a hot air balloon (!) by herself. I thought she usually goes off into the sunset with her prince, but maybe this Clara is more independent?
My main complaint about my whole evening was that the program didn't list the dancers and their parts. You actually had to go
outside
to the hallway to read a poster that listed the dancers for that night. I've
never
seen that before. How hard is it to put that information in the program book?
And sadly we did not get to see THIS:
That would have been hysterical! Oh, and I forgot to mention this guy:
This old guy was at the opening party scene. He wore a kilt and walked with a cane. He was a total lush, drinking throughout the party, and dangled mistletoe above his head to get kisses from all of the ladies at the party. He also could miraculously dance
without
the cane...
All in all, I enjoyed the performance, but this is not the strongest version of "The Nutcracker." Three stars.