I've been working really hard and long hours recently, so I treated myself to a
Netflix
movie night recently to relax and unwind. The new documentary about
Lady Gaga
called, "
Gaga: Five Foot Two
," came out a few weeks ago, so I thought I'd watch it.
Here are my main take-aways:
1. The title comes from an old Art Landry song:
2. Like most celebrities, Gaga has a lot of issues. She's been in the spotlight for so long that her reality is quite warped compared to the everyday person. She's got anxiety: from dealing with paparazzi to worrying if fans will like her new music, she's anxious about a lot of things. I also didn't know that she broke her hip a few years ago, and it still bothers her to this day, which of course is huge for such a physical performer. Several times during the movie you see her getting massages, going to the doctor, getting shots/injections, etc., all to deal with the physical pain she's in, not just from her hip, but the pain she feels as a result from her mental state.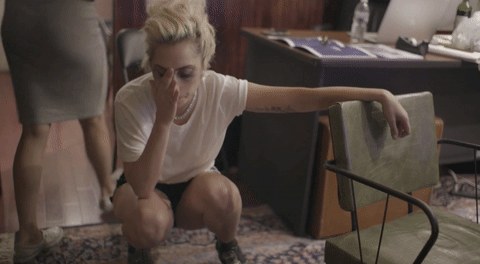 She's dealt with her fair share of drinking, doing drugs, going through depression...she's a very emotional person, and cries throughout the entire film (both happy and sad tears, but still, it was a little overboard just how many tears were shed). AND on top of it all, her love life has been rough, including a broken-off engagement. At one point in the movie she is sobbing, saying that she can never get it all right; when one part of her life is going well, like her career, another part suffers, like her relationships with men. But she must realize that this is true for a lot of people. You can't have it all; you can't have your cake and eat it, too. She complains about how she is surrounded by people all day, talking to her and touching her, but at night, she's alone. Welcome to reality, Lady Gaga. Anyone who isn't married or living with a significant other feels that way (including me). But she does emphasize family (You get to "meet" her dad, mom, sister, grandmother, etc. in the film; you even get to watch a baby family member being christened!), so she must know she isn't truly alone.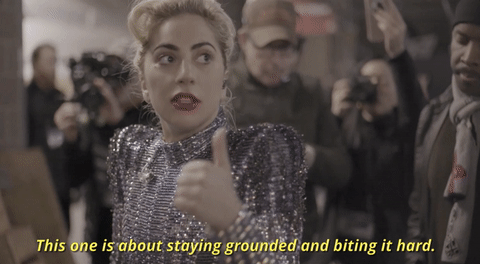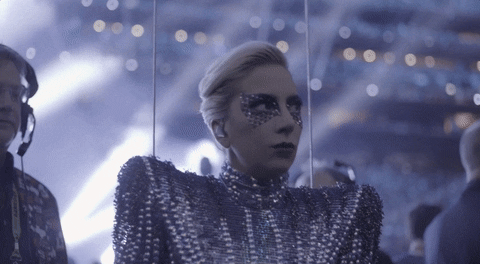 3. She appreciates all the people around her. Even if I felt like she was kind of being a drama queen at times, she always acknowledged how helpful the people were around her, and how much she needed them to get her through things. I enjoyed hearing her pep talk to her back-up dancers for the Super Bowl performance, and thanking all of the people who made that performance possible. And of course she talked about how much she loves her fans (something she's definitely known for). Even her new album is named after her family member Joanne, who died at the age of 19; Gaga wrote a song about her, and wrote it for her dad and grandmother. She doesn't take people for granted, which I really appreciate, especially for someone famous who could take EVERYONE for granted if she wanted.
4. Gaga compared the
Super Bowl
half-time show to a lifetime achievement award, which I thought was really interesting. I don't know if I ever had really thought about it, but it truly is one of, if not the, biggest stage for a performer. And those of us who watched that performance in February know that she KILLED it. I loved reading tweets during it that said things like, "Why is there a football game going on at a Lady Gaga concert?" So true! That was by far the best half-time show I've seen. Let's watch it again!
5. I need to
buy her album Joanne
. Now. Gaga talks a lot about how, with this new music, she is showing her fans a more personal side of herself. She feels more like a woman now who knows who she is, and she doesn't need to make herself heard or noticed by
wearing meat dresses
or making other
crazy fashion statements
. She's wearing plain t-shirts, she's singing songs without a lot of electronic beats...she's a new Lady Gaga, but is being more true to herself now. We all already love "
Million Reasons
." Now we want to hear and see more!